Places We Love: Panama City Beach Edition
At just 3.5 hours from Fort Benning and 2 hours from Fort Rucker, you could realistically visit PCB every weekend if you wanted to. While stationed at Benning, my husband and I visited PCB three times, which was about the same amount that we visited Atlanta. So, if you're a sucker for the ocean, beautiful sunsets and day-drinking, then please keep reading.
When to Visit
While summer is the perfect time of the year to visit, we've also visited once in early March right before Spring Break and once in late February. The weather was a bit cool but bearable. The other perk to visiting during this time is that it is right before peak season starts and hotel prices are fairly low. But BEWARE! Travel too close to Spring Break or during it and you're in for crowds, debauchery and rude teenagers at their worst. In fact, the city issued an alcohol ban on the beach during the entire month of March, and that's just no fun.
On our third and final trip to PCB, we decided to go in early March (wtf were we thinking?!). We discovered the hard way that our hotel walls were disturbingly thin. There are some sounds that you just can't unhear. Those pre-Spring Breakers may have kept us awake until 4 a.m., but we set an 8 a.m. alarm at max volume and placed it next to the adjoining door to their room. We were long gone by the time that bad boy exploded. They may have won the battle, but we won the war.
Where to Eat
There's plenty of Southern-style seafood at your fingertips in PCB, but there's a few other places that kept us coming back again and again. I'm sure you've heard of Cafe du Monde for their world-famous beignets in New Orleans...buuut I'm gonna throw this out there that the absolute BEST beignets are at a local hole-in-the-wall in PCB; David's New Orleans Style Sno-Balls. My husband and I actually justified a day trip from Fort Benning just cuz we craved their beignets so badly. Not only are their beignets legit, but they make a killer muffaletta sandwich and roast beef po'boy. Probably one of my favorite restaurants of all time. Ok, I think you get my point.
For dinner, you HAVE to go to Dusty's Oyster Bar on the west end. This bar is one fun dive, but is still kid-friendly. Every inch of the walls and ceilings are covered in $1 bills (keep an eye out for my Beat Navy buck). The wait can be pretty long during peak dinner hours so grab yourself a pitcher and hang out at a table outside until your name is called. Parking is also really tight so I highly recommend you taxi or walk. Definitely order the seafood sampler and oyster sampler!
Two of my other favorite places are Diego's Burrito Factory and A'more Donuts. Diego's is great for lunch and their tacos are fantastic (actually haven't tried the burritos but I don't doubt that they're good). I also love their margaritas! A'more Donuts is typically what we hit on our way out of town since we always leave early and they're open every day at 6 a.m. I'm obsessed with their milk and cereal donuts!
What to Do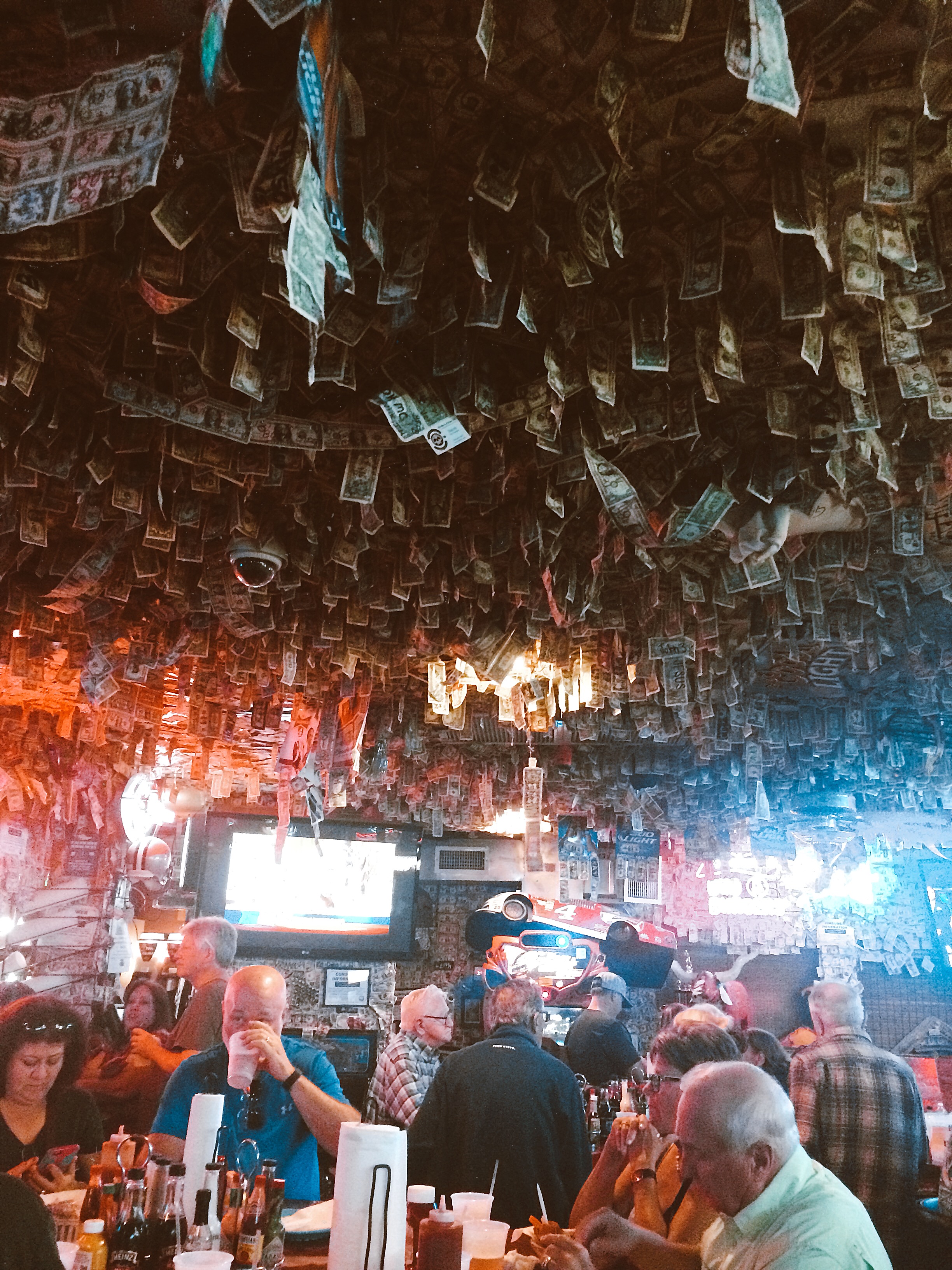 There's plenty of options and I certainly have not done it all, but here's my favorites. Obviously you're gonna want to get some good ocean/tanning time in. For this reason, we always book a hotel that sits right on the beach. See the links at the bottom of the article for my recommended beach gear: cheap and light lounge chair, beach umbrella, towel and cooler at bare minimum.
Head over to St. Andrews State Park and walk through their nature trails. You can bring your dog, but you might actually walk up on a gator so beware. Also, there is an entrance fee unless you're Florida National Guard, but we were given free access just by handing over our active duty military ID.
My absolute favorite activity is the gator spot-lighting tour with Swampvette. We do this every time and it never gets old. You meet up at their office which actually houses a few gator pits. If a young gator is available, they bring it out and let everyone hold it. After this you drive over to the dock and grab a seat on their airboat for a fun adventure. This is perfect for kids and well worth every penny. Sure beats spending $70 to pet a dolphin for 15 minutes at GulfWorld. Anyways, the airboat tour takes you through the inter-coastal waterway as you search for gators. We sighted several baby gators in their hiding spots once and they were so stinking cute! (about 8 inches long).
There's plenty of other options, but those were my favorites. Here's a few others that come highly recommended: rent a motorbike and zip around Front Beach Drive with the rest of the cool kids, go parasailing, take a day trip to Shell Island, visit Ripley's Believe It or Not, go to WONDERWORKS, hit up da clubs at night.
Have you been to PCB? What were your favorite things? Let us know!
Riley is an active duty US Army Captain and the Founder of Right and Up. She's currently stationed in Washington, DC, with previous assignments at Fort Huachuca, Fort Bliss, Fort Riley and Fort Benning. You can typically find her eating embarrassingly large amounts of food in local restaurants, or exploring her military town with her husband, Sean and her dog, Gus. Connect with her on Instagram, Facebook and Twitter!