Looking for Adventure? Hike Scotland's West Highland Way
The Basics
Scotland's West Highland Way extends a total of 96 miles and takes about a week to hike the entire thing. The traditional South to North route goes from Milngavie to Fort William, and most hikers will start and end their trip in Glasgow. The trail opened officially in 1980 and has since become one of the most popular trails in Europe with over 120,000 people hiking it each year (only about 30,000 people complete the entire hike).
The trail is opened year-round and offers so much variety for its hikers that it can be traversed by almost anyone, young or old, and in any fashion you choose. Not interested in carrying a heavy pack? Have your luggage shuttled to your next stop. Think you can live without creature comforts? Pitch a tent along the way. Don't have time for 96 miles? Hike a section of it instead.
Overall, the trail itself is very well maintained and even inexperienced hikers can make the trek. For my complete packing list, click here!
My Itinerary
I fell into the category of not having enough time for the full week-long hike, but wanting to go about half and half with the creature comforts. My husband and I decided to do a 3-day trek from Bridge of Orchy to Fort William, and we carried our packs with us along the way and stayed in a hotel or guesthouse each night. In this way we got to experience both the joys and the pains of the trail and felt sufficiently accomplished at the end of our 35 mile hike.
We traveled in mid-May, which is just in the beginning of the popular hiking season that extends through the summer. June-August are the most popular months. In May, the weather was almost perfect with overcast days that bordered on rain, but we never experienced a downpour. Temperatures were moderate in the mid to high 50s, which was perfect hiking weather. The sections of the entire trail are broken into eight "stages," so our 3-day hike took us along stages five through eight.
Getting There
Our flight took us into Glasgow airport and we stayed at Hotel Z by St. George's Square. This was a perfect location as it was a block from Glasgow's Queen Street Station, which is where you hop on the train to take you to the start point of the trail. Hotel Z provided a great continental breakfast in the morning before we got on the train and we were able to start the hike immediately with full stomachs.
We pre-purchased our train tickets (this is a must) about a month out. If you're traveling in the thick of peak hiking season, you may want to buy tickets much further in advance. If you plan on doing the entire hike, then you'll take the train from Queen Street to Milngavie Station, which is about a 30 minute train ride. Since we started at Inveroran, we took the train from Queen Street to Bridge of Orchy Station, which is about 2.5 hours.
At Bridge of Orchy, you simply hop off the train and the trailhead is just down the stairs! Hint…use the bathroom before you get off the train. If you forget, you can stop in at the Bridge of Orchy Hotel about a quarter mile down the trail.
While the trail is well-maintained with relatively few off-shoots, you can always maintain your bearings by looking for the West Highland Way symbol, pictured here at the top of the sign-post.
Stage 5: Bridge of Orchy to Kingshouse (11 miles)
This leg of the trail is relatively straightforward, but very exposed. It's a steady incline until the last few miles when you make your descent to Kingshouse. If the weather is good, this can be one of the most relaxing sections of the trail, and you can take your time with plenty of photo-ops along the way. If you're looking up this stage of the trail on the official website, it's labeled as Inveroran to Kingshouse. Inveroran is about a mile North of Bridge of Orchy, but there is no train stop there to easily access the trail, so Bridge of Orchy is a more natural starting point.
We caught the train from Glasgow's Queen Street a little after 8 a.m. and arrived to the Bridge of Orchy around 11 a.m. This gave us plenty of time to hike the 11 miles to Kingshouse. With stops for lunch and sightseeing, we got to Kingshouse just before 5 p.m. and were able to check into the Kingshouse Hotel at Glencoe.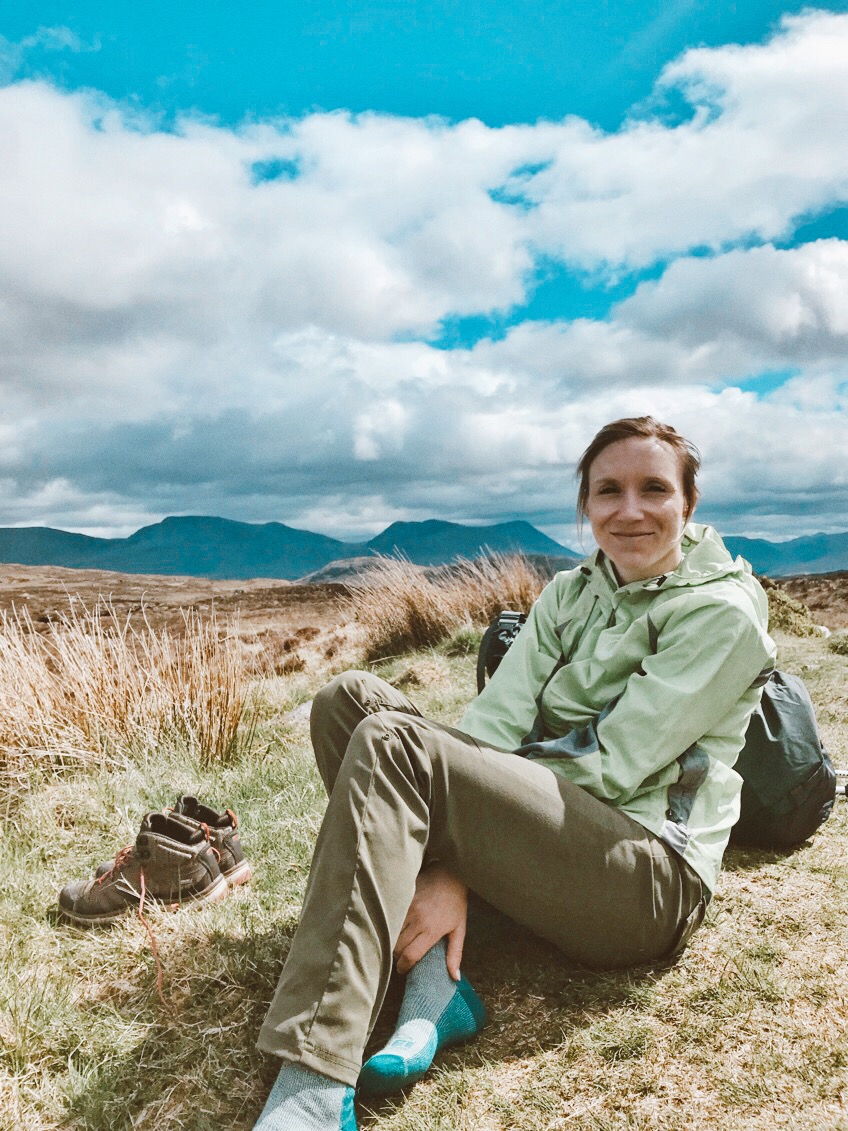 There are a few options for accommodations along Stage 5 depending on your budget/needs. You can stay in the Kingshouse Hotel, which was recently renovated by its owners (the Count and Countess of Stella…yup, this place is owned by the Stella Artois beer dynasty). The rooms are beautiful, but a little pricey. You can also stay in the bunkhouse, which offers bunks and communal showers/bathrooms. This is definitely the most cost-efficient option, but after a long hike, you may want to rest up in the lap of luxury. Of note, if you stay in the bunkhouse, you cannot go to the full-service breakfast offered at the Kingshouse Restaurant, but can attend the continental breakfast offered at their Way Inn pub.
Stage 6: Kingshouse to Kinlochleven (9 miles)
Don't let the shorter distance fool you. This section of the trail is deceptively tough. After a brief few kilometers of gentle terrain, you round the bend and immediately ascend the Devil's Staircase, which is about a 300 meter climb over a 1 kilometer distance. This brings you to the highest point of the entire West Highland Way and you can enjoy beautiful views and treat yourself to that bacon sandwich you snuck into your pack from breakfast back at Kingshouse.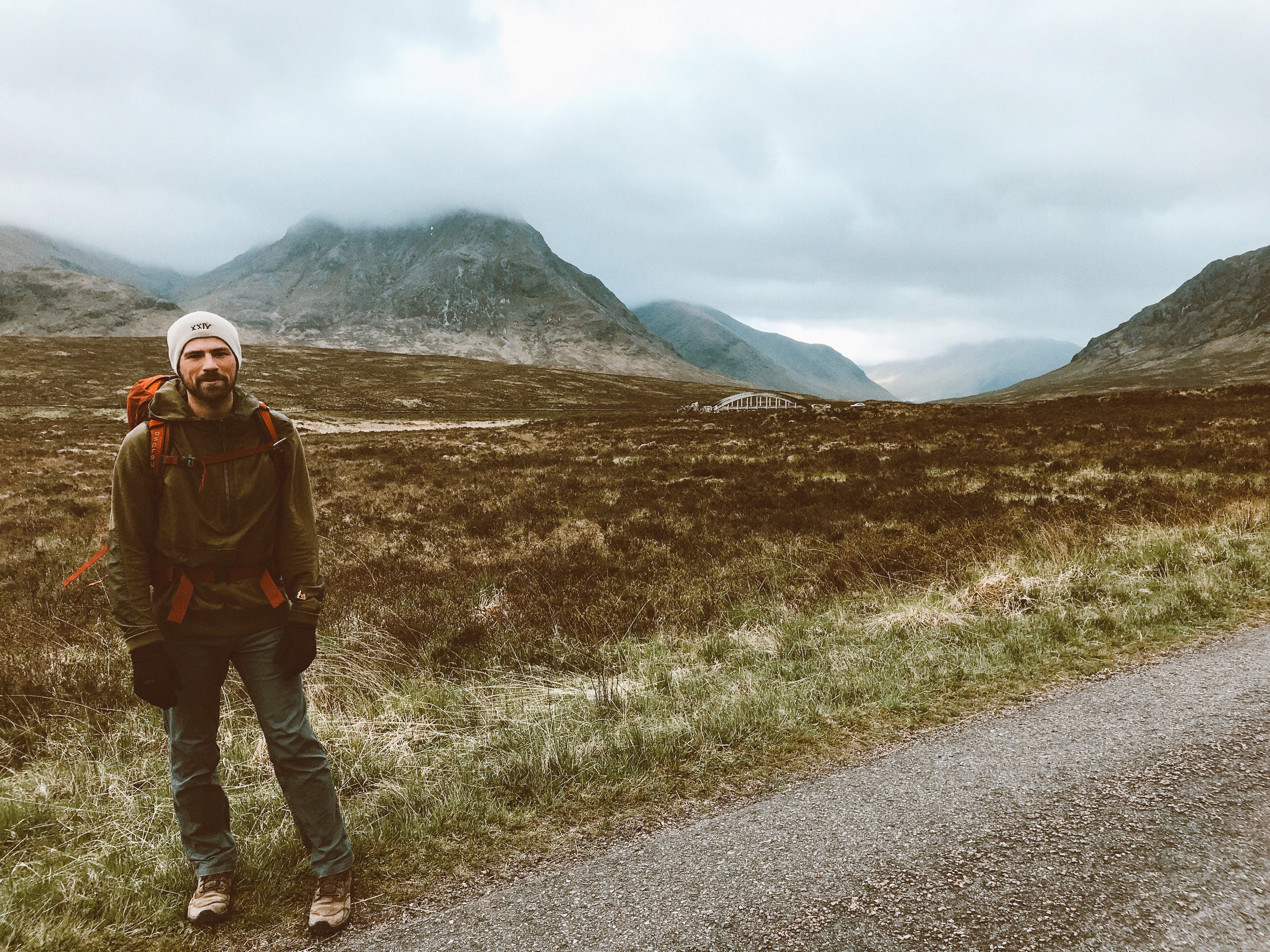 Naturally, after your steep ascent you'll experience a steep descent that extends almost the entire rest of this stage of the trail until you reach Kinlochleven. This can be especially brutal on your knees, so take it slow and hopefully you brought your trekking poles with you (seriously…they're all the rage!).
The town of Kinlochleven offers plenty of options for guesthouses and hotels, and it is essential to reserve these in advance. We decided to stay at MacDonald Hotel, which required us to trek about a mile into town along the roads. Despite how much my knees and ankles disliked the hard-packed asphalt by this point, it was a great choice on our part as MacDonald Hotel is literally right across the street from where the trailhead picks back up. This made our morning commute simple. The accommodations themselves were nice as was the staff, and you have the option of staying in a hotel room or a cabin. You can have dinner at their pub or at the Purple Stag restaurant also located in the hotel (we recommend the pub). You can also venture back into town for other dinner options.
Stage 7: Kinlochleven to Fort William (16 miles)
Congratulations! This is the last leg of the trail, and in my opinion, the most painful. Though this is by far the longest leg of the 3 stages described in this itinerary, it's the downhill descent into Fort William and the several miles of sidewalk and asphalt upon arrival to town that will do the most damage to your joints and feet. Hopefully you've invested in a sturdy pair of boots with ankle support otherwise you'll be hurting.
This section of the West Highland Way offered the most diverse scenery that we'd seen so far. It begins with a rather steep ascent through an enchanted fairyland (at least it had this vibe in May). There's also rocky and windswept hills, timberland, mossy corridors, and an occasional waterfall or two. You also have stunning views of the British Isle's highest mountain, Ben Nevis.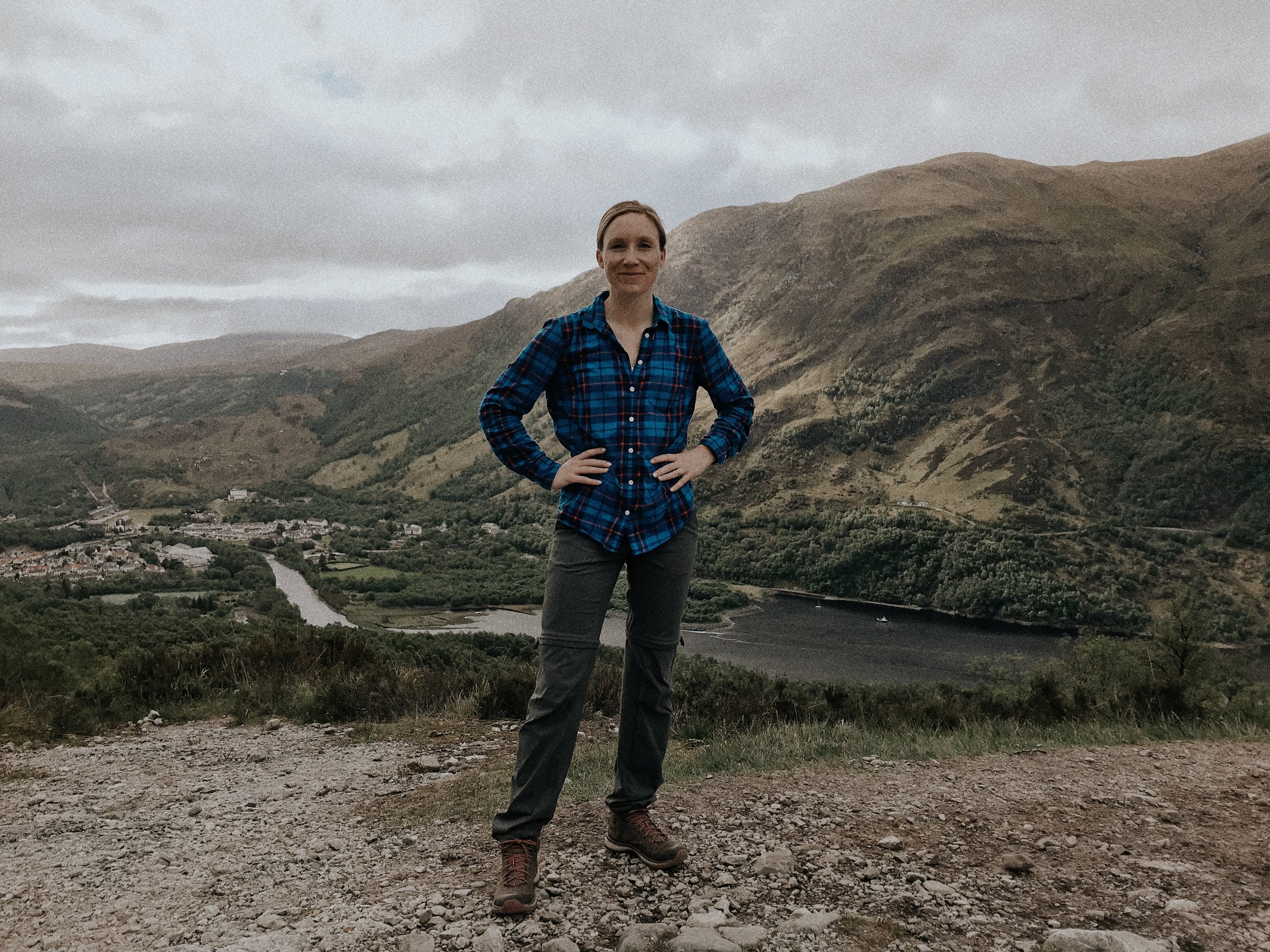 We snagged an Airbnb in Fort William that was right up the hill from the historic downtown area. This made for an easy walk into town for dinner. While Airbnb was a great option, there are lots of local B&Bs throughout town that you can reserve ahead of time. There are plenty of places to eat and the town itself is charming and full of history. If you're feeling up to it after your big adventure, you can spend the evening pub-hopping along the Main Street. For dinner, try to get a reservation at Crannog Seafood Restaurant. This will require you to plan out well-ahead of time as they fill up weeks in advance. While we were not able to get a reservation at Crannog, we walked into Garrison West for dinner and had a lovely time. Food, drinks and service were amazing.
Before heading back to our Airbnb, we stopped by the grocery store and grabbed some pastries for breakfast and snacks for the train the following morning. Our train from Fort William back to Glasgow left at 7:45 a.m. so we couldn't stop for breakfast beforehand. The trip back took a little over 4 hours and it was packed with fellow hikers who'd also completed their trek the day prior.
All in all, hiking Scotland's West Highland Way was a true bucket list adventure! It may not have been the most relaxing vacation we've ever taken, but it was certainly the most memorable. The views and satisfaction of the hike were enough to make me want to go back again to hike the entire thing. Happy travels!
Riley is an active duty US Army Captain and the Founder of Right and Up. She's currently stationed in Washington, DC, with previous assignments at Fort Huachuca, Fort Bliss, Fort Riley and Fort Benning. You can typically find her eating embarrassingly large amounts of food in local restaurants, or exploring her military town with her husband, Sean and her dog, Gus. Connect with her on Instagram, Facebook and Twitter!