Fort Benning Guide to Antiques, Vintage and All Things Junk
Bargain hunters rejoice! If you've got an eye for old and refurbished items, then be happy that you're stationed at Fort Benning. There are quite a few thrift and antique shops in the area, and while this list is by no means all-encompassing, I've managed to whittle it down to my favorite locations. A few things that I took into account in my search: proximity to Fort Benning, aesthetics of the store (does it make me excited about junk?!), friendliness of the staff. While creating this list, I was lucky to stumble into a couple of lovely local Columbus ladies who schooled me up on the differences between antiques, vintage collectibles and junk (aka thrift). I now also have the dirt on anyone who's anyone in Columbus. Be warned!
Located in Columbus, there are a few things that set this place apart from the rest: it's home to the world's largest vintage lunch-box collection (recognized by the Smithsonian) and it's got one of the best muscle truck collections on display inside the store. Owned by Allen Woodall and his wife Bonnie, you will feel right at home here. It's easy to get lost amongst all of the different rooms and sections within the warehouse, but there is truly something for everyone.
Take a few minutes to talk with Allen and hear all about the best places to eat Brunswick stew in Columbus! I'd never even heard of that before, but Allen made sure I wouldn't embarrass myself any longer.
Right and Up Tip: If you want to see the lunch-box museum, it's a $5 entry fee ($4 for military and seniors and kids under 10 are free!). Also, they are soon moving to a new location on Hamilton Rd.
If you're not familiar with the term shabby chic, just walk into this store and you'll immediately understand. Operating as a consignment antiques mall, small business owners and crafty critters can sell their wares here. You could spend hours in this store! It is a Pinterest fan's mothership. Additionally, they've got a great cast-iron selection along with some vendors who sell vinyl records and bath bombs!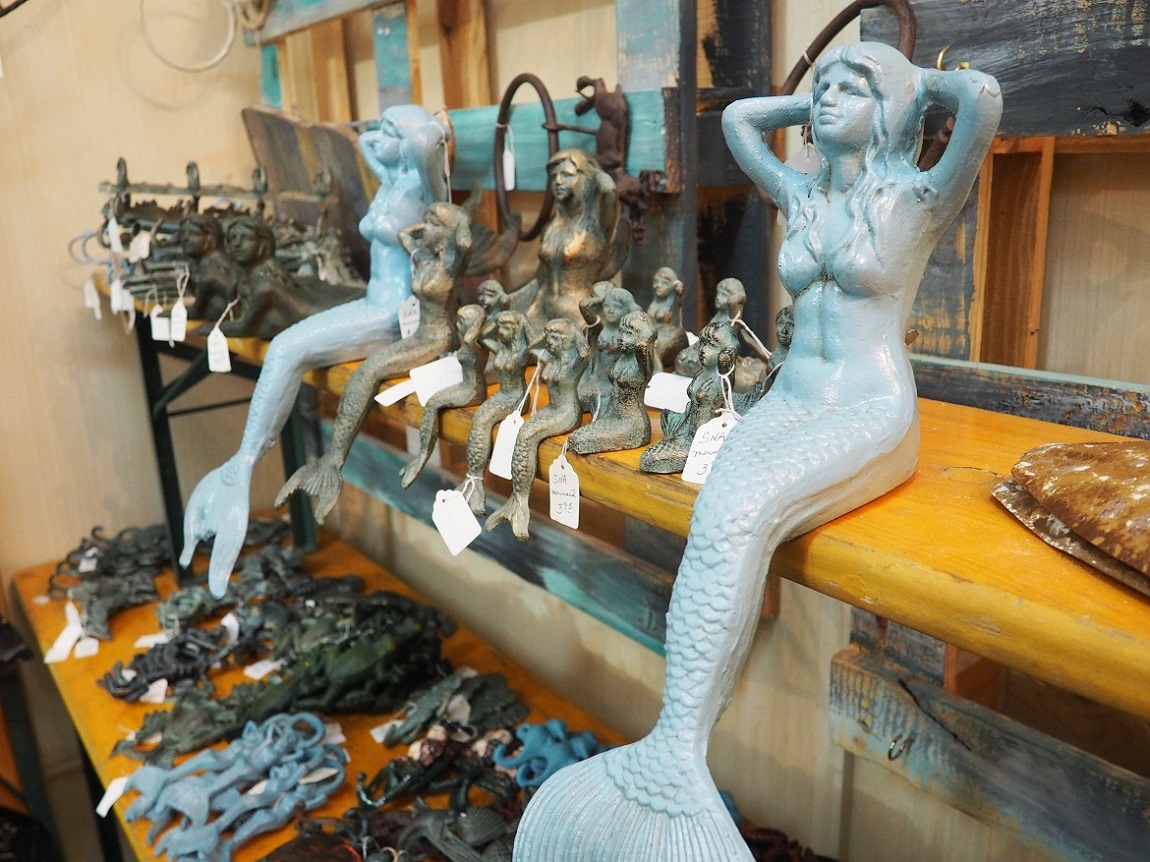 I love Treasures Antique Mall because it is so organized! Located in Northern Columbus, this place is great to shop for high quality antique furniture and glassware. Be sure to leave time to check out their cute outdoor section. It may not seem like much at first glance, but there are some very cute wrought-iron garden items.
Admittedly, this place can be a bit overwhelming on your first visit, and I would classify this as more of a thrift mall than antiques warehouse. Owned by the same people who run The Junque Yard, this is a consignment store where vendors can set up their own displays. It's maze-like layout makes it very easy to get lost...the good kind of lost though.
5. Patrick Williams Antiques
Located at 3506 2nd Ave. in Columbus, you'll have a hard time finding any information about this place online. If I had to describe this place to a friend, I'd say it very closely resembles the Room of Requirement from the Harry Potter movies. Packed to the brim with fine antiques, Patrick Williams' place encompasses 4 buildings that are all connected by seemingly secret passageways. With high vaulted ceilings, standing in the middle of this place and looking up in awe can be likened to visiting some famous cathedral in Europe. I talked with Mr. Williams at length. He's been in business for 54 years and brought over a lot of the furniture from Paris. He may seem rough around the edges at first, but he's passionate about his business and if you ask nicely, he'll show you some of his most prized items.
6. Vintage Years
First and foremost, the owner of this store is an absolute gem! Her name is Linda and at 74 years old, she's rockin' and rollin' in the name of good fun. I could sit and talk to her all day! Every October she dies her hair pink in honor of Breast Cancer Awareness Month. Her store, Vintage Years, has been opened for 17 years and she loves to go junking! Though a very small store, I can just see Joanna Gaines from Fixer Upper making some serious finds in here. You can find Vintage Years at 114 38th St. in Columbus.
Like I said, when it comes to Columbus, these are my go-to places. Additionally, there are plenty of installation-sponsored yard sales and flea markets on Fort Benning proper throughout the year. If you're looking to spend all day thrift or antique shopping, consider branching out to nearby cities like Phenix City or Cusseta.
Riley is an active duty US Army Captain and the Founder of Right and Up. She's currently stationed in Washington, DC, with previous assignments at Fort Huachuca, Fort Bliss, Fort Riley and Fort Benning. You can typically find her eating embarrassingly large amounts of food in local restaurants, or exploring her military town with her husband, Sean and her dog, Gus. Connect with her on Instagram, Facebook and Twitter!